Reading lists are a really useful way of delivering core reading material in a consistent way to students. There are many benefits to reading lists and this really useful blog post, compiled by colleagues in Library Services will take you through creating your own.
All taught Canvas courses must be populated with a list of required reading using the Reading List tool, KeyLinks. A link to the "Reading List" software is available in the modules area of each course and can be duplicated to the appropriate page/home page template as necessary.
The Reading List tool:
is a dynamic and interactive list of resources directly related to the teaching and assessment of your Canvas course
provides students with direct links to books, articles and other resources provided by the Library
alerts Library staff automatically when a new title needs purchasing
ensures all relevant books and eBooks are available in good time for students
allows tags and notes to be added, which can then be filtered by topics/weeks or learning objectives
is flexible and it can be updated at any time
is located in one place

"In essence it is a communication tool that allows academics and librarians to support learners effectively." (Dr Clare Milsom)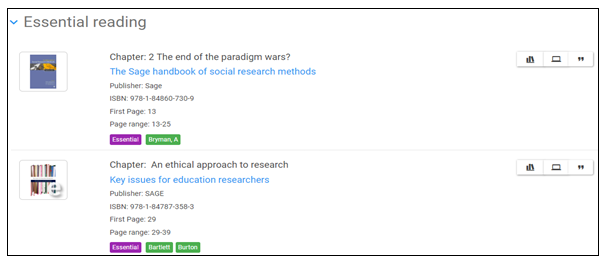 Further Help and Support
Contact your Academic Liaison Librarian if you want one-to-one guidance, to book a workshop for your team or to troubleshoot queries and ask questions. Further information and a user guide can also be found on the Library Services Reading List web page.