The Teaching and Learning Academy have worked with Academic Staff and JMSU to create a system within Canvas that aggregates an individual student's electronic feedback into a single Feedback Dashboard. This has now been released as a beta version for staff to use with students to help them understand the value of feedback and use it more effectively.
Many thanks to Dr Ian Sadler (School of Education) and Julie Daer (JMSU) for helping us with this project.
Background
The most powerful single influence on achievement is feedback, however its impact is highly variable, which indicates the complexity of maximising benefits from feedback (Hattie 2007). Carless and Boud (2018) argue that to enhance feedback processes students need both appreciation of how feedback can operate effectively and opportunities to use feedback within the curriculum. Using the learning activities of peer feedback and analysing exemplars, they have identified three factors that influence the extent to which students take action based on their feedback; appreciating feedback; making judgments; and the managing affect. Student tutorials can act as a useful space where these can be explored. However, it is not always possible for tutors to see and discuss examples of feedback within the tutorial.
It is common practice at LJMU to provide electronic feedback, however the design of VLE means that feedback is atomised and accessible inside the assignment and further divided inside each course. Providing a single space where all of a students' electronic feedback is gather could be useful for tutors and tutees alike, allowing patterns and themes to emerge and be discussed.
How could this be used in practice?
Ian Saddler suggests a number of ways to use this with students:
"I think the main way that the tool can become a 'household' application is:
Connect it to the student performance meetings that students have with their personal tutors after results notification for semester 1 (i.e. Mid-late February). These meetings are supposed to be logged in WebHub and the tool could become part of the discussion.
Requiring students to use the tool within module activity or assessments. Many programmes have Prof Dev modules where collating feedback and developing an action plan is required – the tool would be great for this. Even better, make interaction with the tool a necessary part of reflection as part of an assessment."
What can the Feedback Dashboard do?
This tool within Canvas could help tutors to manage such explorations. The tool allows the tutor to access all feedback in Canvas (with some exceptions) for an individual student. They can then use this to discuss, with the student, how they might use this feedback to help them improve their future submissions.
In Fig.1 you can see the tabs for each academic year the student has studied and the list of modules they are enrolled on. The number at the end of each Canvas course title indicates the number of feedback elements on the course.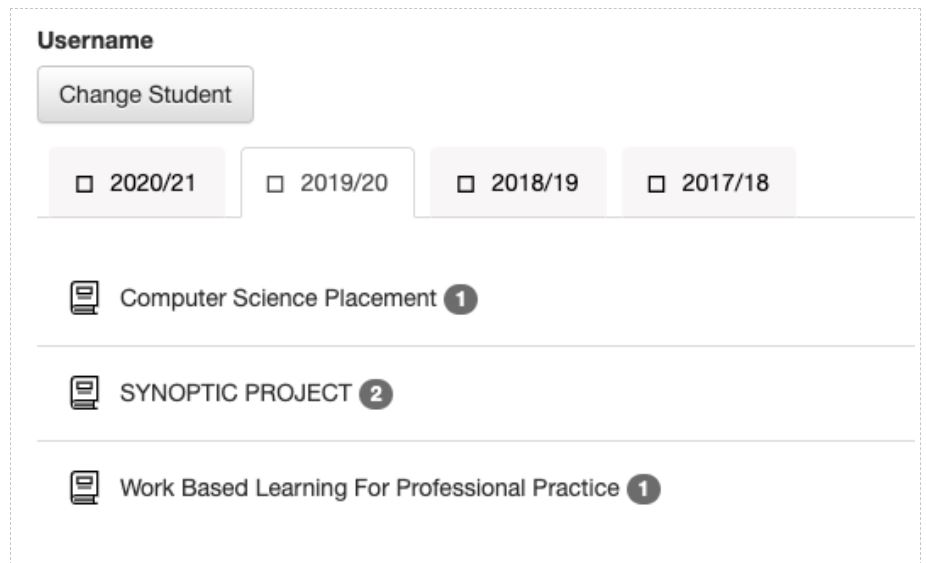 Each feedback element is then displayed in its own Assignment Feedback card. This displays as seen in Fig 2, and includes:
The author of the feedback
The title of the assignment
The date the feedback was written
The number of attempts
The final grade for the submission.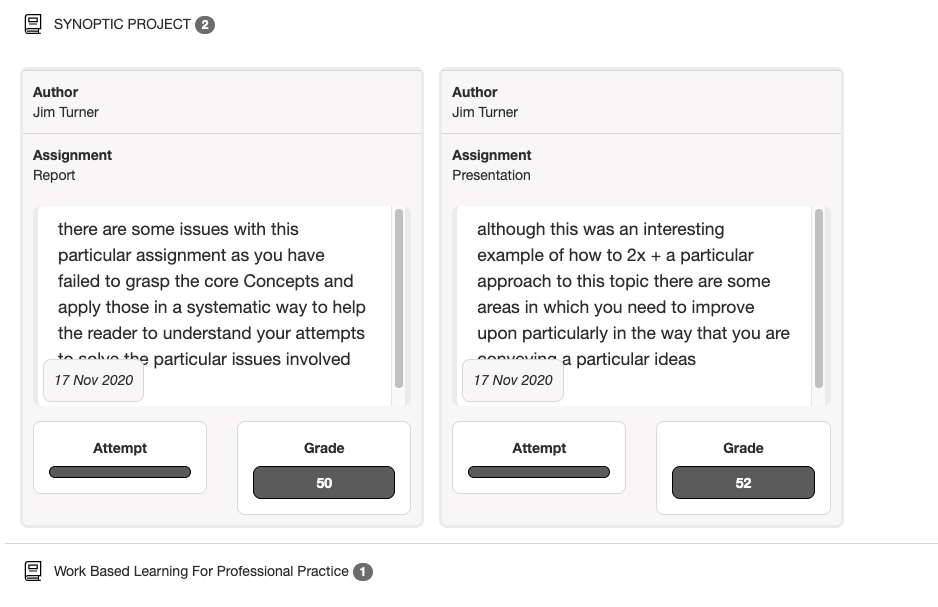 It is acknowledged in the design of this new process that not all programmes use electronic feedback therefore the tutor is in control of the access to this space.
References 
Hattie, J., & Timperley, H. (2007). The Power of Feedback. Review of Educational Research, 77(1), 81–112. https://doi.org/10.3102/003465430298487 
David Carless & David Boud (2018): The development of student feedback literacy: enabling uptake of feedback, Assessment & Evaluation in Higher Education, DOI:10.1080/02602938.2018.1463354