The LJMU Canvas and Technology Enhanced Learning team aim to ensure our Collaborative partners are fully supported in their use of Canvas. We can manage the process of on-boarding for a new partnership adopting Canvas and also provide ongoing support in the development of Canvas use. If you are a link tutor, or tutor at a partner college and would like to arrange any training or have enquiries regarding Canvas please contact Phil Rothwell in the TEL team.
Getting started
When a new partnership sets about using Canvas for the first time there a number of processes that we recommend are followed to ensure access for staff and students is as straightforward as possible
The processes are as follows: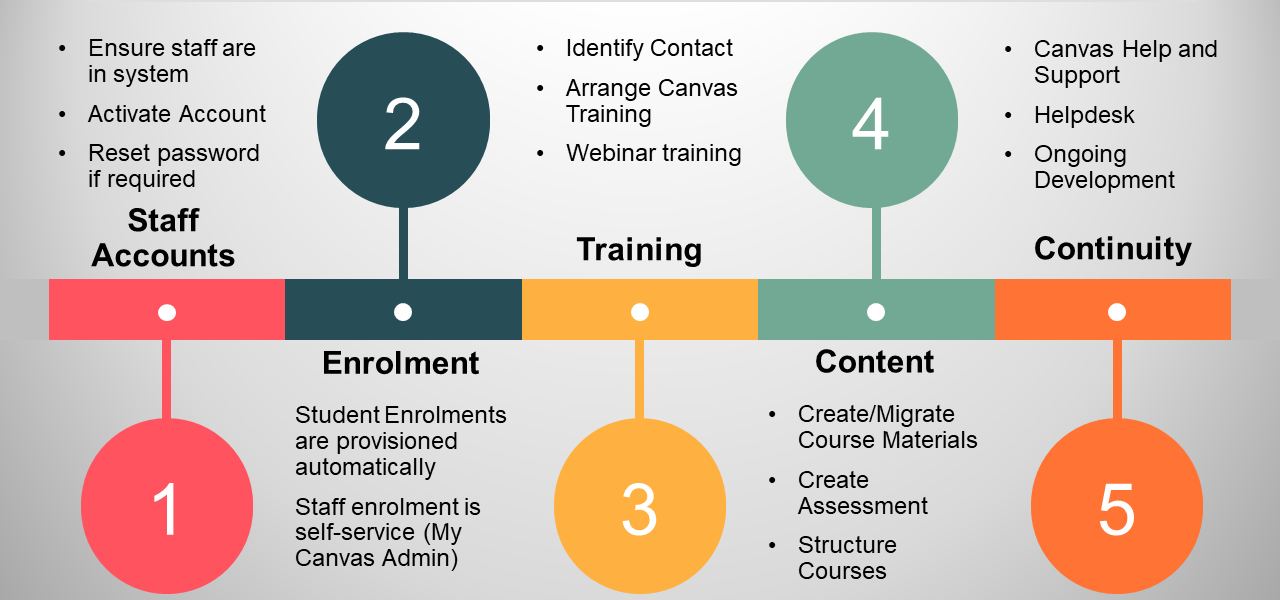 1 Staff Accounts
Canvas access is granted through a list of users called the Active Directory. It is not possible to access without first being registered as a member of staff by our HR department. Next you will be required to activate your account. This grants you access to relevant IT systems, including Canvas.
Canvas Login
Once you are registered as a member of staff and have activated your account
The process used to log into Canvas is detailed below
Navigate to Canvas.ljmu.ac.uk
In the username field, input your ljmu username followed by ljmu.ac.uk (username@ljmu.ac.uk) 
Type in your password as normal
The following video covers how to access from an onsite or offsite PC
Password
LJMU Passwords require renewal every sixty days, if your password has expired since your last login visit Forgotten My Passwords for help.
2 Enrolment
Student
Student Enrolments are provisioned through the Student Information System and take place automatically. There is no need for staff to facilitate any student enrolments. If a student is not enrolled on a course as expected please contact your link tutor or programme administrator
Staff
Staff enrolments are managed through a self-service tool, My Canvas Admin
This Can be found by clicking the Account icon (your profile picture in the upper left of the canvas Dashboard) and by selecting My Canvas Admin from the drop down menu. Instructions on how to use My Canvas Admin for enrolments detailed instructions in the use of My Canvas Admin for enrolments.
3 Training
The Technology Enhanced Learning Team are happy to arrange webinar based training in the use of Canvas. It is recommended that the link tutor identifies a contact with whom the team can liaise in order to coordinate training times, details and content. Please email Phil Rothwell, p.b.rothwell@ljmu.ac.uk in the TEL team for more details.
4 Canvas Content
Content management is an important aspect of delivery. Some Collaborative partners copy course materials from their LJMU equivalent and others create materials from scratch. Whichever your approach training will be provided and staff supported in how to coordinate this
It is not recommended that Assessments are copied over – these must always be newly made each time.
5 Continuity
Ongoing support and problem resolution for technical and user issues is provided by both Canvas support and LJMU's TEL team
Accessing Help in Canvas
There are a number of ways that help can be accessed in Canvas using the Help icon. The video below covers this  Please note the Freephone Number is UK only. International calls are likely to incur additional charges. We advise that overseas users make use of either the Live Chat or 'Create a ticket' facility, 
Getting started with Canvas for students
Canvas staff guides – Some of the key tasks for staff wishing to get started with Canvas can be found at the links below
If you have any enquiries regarding additional support or would like to arrange training please contact the TEL team and we'd be happy to arrange this.