This is an open call to any staff or doctoral students across the institution to see if there is any benefit from creating a network that would allow academics to share practise in this emerging area.  
What is Immersive education? 
The principle aim of a network is to share understanding in the area of immersive education. It focuses on delineating this area from a technological perspective of those using augmented reality or virtual reality. Although this technology can be used in a variety of ways we are particularly interested in its educational benefits, but this doesn't preclude conversations or discussions on other applications. The types of technology fall into three categories.
Technologically enhanced simulation –This is where students are placed in an online or physical simulation spaces that use technology to enhance those experiences. The physical space might be designed to look like the real environment, it might have technologically enhanced objects like simulated patients within it. An online simulation may be using an application to provide real time feedback such as changes in business markets.
AR Augmented reality – This is an interactive experience of a real-world environment where the objects that reside in the real world are enhanced by computer-generated perceptual information, sometimes across multiple sensory modalities, including visual, auditory, haptic, somatosensory and olfactory.
VR Virtual reality – This is a simulated experience that can be like, or completely different from the real world. The technology tends to place the learner within a 360 degree representation within which they may interact with objects or other people.
There are a growing number of studies in this area as the technology and access becomes more abundant. Immersive learning has been showing to increase performance in a number of subject areas, and the dominate pedagogical approach is one of active scaffolded learning, simulating creativity and shared knowledge construction (Beck, 2019; Gautam et al., 2018).
Immersive Education at LJMU 
The School of Nursing. This school is developing several simulation suites to allow students to interact with technologically enhanced dummy patience that react and provide audio and data feedback to help the students experience the clinical environment. The School of Maritime Engineering. This school has possibly been using simulation for longer than any others at the University. It's simulation of a ship's bridge and other enhanced learning environments help students to learn and reflect on their growing abilities and competence. 
There are a number of individuals, courses and departments that are experimenting with this technology, here are just a few. The MA in Immersive Arts and Experimental Technologies Lab  set up by Pete Woodbridge, who has now moved on, and the LJMU's Faculty of Engineering and Technology, LIVE Lab. The School of Arts also has FabLab and are working with students, and external parties to explore this technology. The School of Computing has a long history of exploring this this technology with students, with some particular developments by William Hurst using students' mobile phones for augmented reality demonstrations in lectures. This particular technology is still in its infancy but has the potential to place any object in front of the student for investigation or to further understanding.  
The dance programme, supported by Noel Jones, has also developed numerous examples of immersive technology, mixed reality and VR to explore its role in performance. This space allowed many functions from a basic stage set or an immersive teaching environment to an entire virtual company of performers. The technology used to create this type of environment has lent itself to many collaborative and interdisciplinary crossovers, giving students the opportunities of real-life industry practice.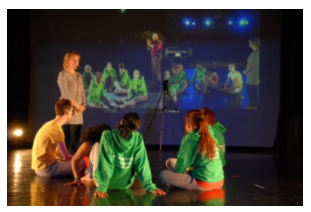 LJMU Libraries are in the process of developing a digital studio space to allow students to experience and develop VR/AR technology and resources.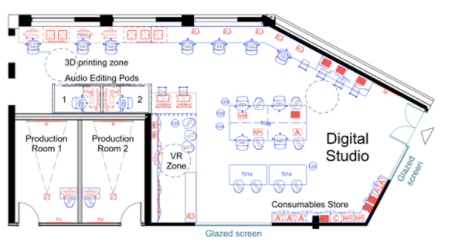 Why a Network?
This might be a useful way to gather those that are interested in this area of Immersive education to share their understanding, experience and support to develop further experiments and live tests with our students. The network would also discuss the possible educational benefits for our students and wider community. This will hopefully help the institution to understand the innovation taking place here and how to help support its growth and direction at an institutional level.
References
Beck, D. (2019), "Special Issue: Augmented and Virtual Reality in Education: Immersive Learning Research", Journal of Educational Computing Research, SAGE Publications Inc., Vol. 57 No. 7, pp. 1619–1625.
Gautam, A., Williams, D., Terry, K., Robinson, K. and Newbill, P. (2018), "Mirror Worlds: Examining the Affordances of a Next Generation Immersive Learning Environment", TechTrends, Springer New York LLC, Vol. 62 No. 1, pp. 119–125.