Vevox, the institutional classroom voting system, is now available within MS Teams. This means, if you are running a Teams meeting you can add Vevox as an additional app and allow attendees to interact with questions and Q&A functions without ever leaving the Teams interface. The new Vevox Teams integration allows participants to vote anonymously in polls, contribute & up-vote Q&A comments, complete surveys and take part in action filled quizzes. V
oting takes place straight from within a Teams meeting, and the integration will appear on the side panel clearly visible.

Here you can see the Vevox button within the normal Teams interface.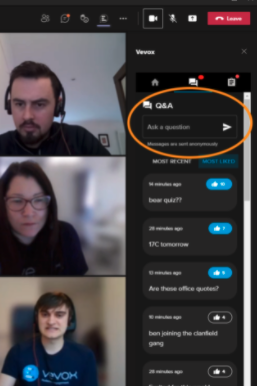 Here you can see an anonymous Q&A activity running within a Teams meeting.
You can also run a Vevox poll from within a teams discussion. For more information see the Vevox guide: Using Vevox with Microsoft Teams – For Meetings and Video Calls. This video goes through everything you need to know about adding vevox and running vevox during a Teams meeting.