There are now several mobile apps available within the University, you might want to think about downloading some of these apps from your app store.
This student guidance page will help you understand and use Buddycheck software to support your group learning.  
LJMU students undertake formative and summative group work depending on the design of their programme. Group work has been shown to promote deeper, more active, cooperative, and experiential learning that helps develop social skills and learning community networks, which are both being useful within the world of work.  However, the most common complaint from students is parity between student contribution, and students can also struggle with learning and implementing team management skills [1,2,3] This software helps elevate this by allowing the members of a group to evaluate each other's performance.  Your tutor can then use this to help them understand any issues the group may be having and also help them mark each individual group member.
Your tutor will make this process clear, the guide below shows you how Buddycheck works. 
What is it?
Buddycheck is simple to use peer evaluation tool within Canvas, which allows students to evaluate each team member's performance in a group activity, as well as self-assessment. It is a useful tool for helping you manage group work by.  
Allowed academic tutors to provide 

you

 with timely feedback on their assessment through the peer assessment tool.

 

Provided an opportunity to reflect upon the group work process.

 

Enhanced key employability and interpersonal skills (e.g. communication, reflection, evaluation and teamwork skills).

Provided information to help guide marks for individual group members.
Positively impacted your fellow students'

behaviour

 because they knew they were going to be assessed by their peers.

An opportunity for 

you and your peers

 to air their views within a secure environment.

 
H
o
w can I use it?
Here is a video of how you complete an evaluation (Student): https://vimeo.com/385077463 
Quick overview of how it works
It's in Canvas 
These are the steps to complete a Buddycheck assignment.  
Please note you cannot change the feedback you provide once it has been submitted. Please take your time and reflect on your team before submitting.  
Go to your Canvas course

 

Go to the 'Buddycheck' menu item

in that course

Click on 

"Begin evaluation"

 

Click

 on "show me first" for a tutorial video if you need guidance

 

Click "Start"

 

Evaluate your team members performance

 

If requested

,

you can choose to leave written feedback for the group members and tutor. Please note feedback will 

not

 be anonymised. 

 

Click submit
What 
you
will 
see
You fill in a number of topics for yourself and your peers.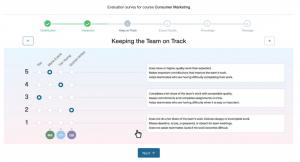 You may be asked to send optional feedback to each peer directly. Only the student that received the feedback will see the message if you release the results and it will not be anonymous. Instructors can also see these messages. 
If the results are released to you, all students receive a link to a page with their results, including tips on how to improve. These are accessible via the Buddycheck menu item in the course menu.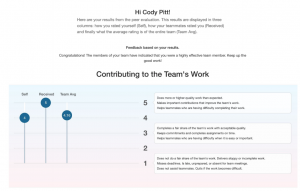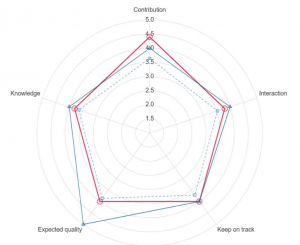 About
the adjustment
factor
Your tutor may use your Buddycheck evaluation score to adjust your mark for an assignment. Here are the details of how the system makes the adjustment.
A 'weighting factor' is generated for each individual group member which is derived from each student's input against defined criteria. Based on the total mark given to the group task, assessed and allocated by the academic tutor in the usual way, the weighting factor is then used to moderate marks, providing an individual mark for each student. 
This value is meant to be used as a way to evaluate how well students can work in teams. This factor can be used to adjust the grade of a student in the Canvas grades area. The adjustment factor is a value calculated by averaging the students' scores across all question categories and dividing this by the average of the overall rating each team member received. It can be used as a percentage if multiplied by a hundred. 
How is the Adjustment Factor calculated
?
An Adjustment Factor value is a calculated number that attempts to show the contribution of a given student relative to the other members of their team.  
Specifically, this Adjustment Factor is the average rating of the student divided by the overall average rating for all members of the team.  
With or without self
With Self means that one the student's self-ratings factored in. In some cases, exceptional conditions such as 'Cliques' may have an impact on the validity of the Adjustment Factor values, and in these cases the Adjustment Factor columns will be highlighted.  
Original or capped
Depending on the settings of your school, you have the ability to choose between the original or capped adjustment factor. By default, the capped adjustment Factor value is capped at a maximum of value of 1.05. Also, values above 0.95 are rounded up to 1.00. However, your school can have different cutoff levels. You can get an explanation of the capped adjustment factor by hovering over the switch on top of the results table. 
Support
If you find this process stressful and wish to talk to someone confidentially please contact student advice and wellbeing.  
If you need help with the software please use chat option inside Buddycheck interface.  
References
Dijkstra, J., Latijnhouwers, M., Norbart, A. and Tio, R.A., 2016. Assessing the "I" in group work assessment: State of the art and recommendations for practice. Medical teacher, 38(7), pp.675-682.
Natoli, R., Jackling, B. and Seelanatha, L., 2014. The impact of instructor's group management strategies on students' attitudes to group work and generic skill development. Pedagogies: An International Journal, 9(2), pp.116-132.
Davies, W.M. 2009 Groupwork as a form of assessment: common problems and recommended solutions. Higher Education 58, 563–584 doi:10.1007/s10734-009-9216-y