How can I create a meeting?
The blue button at the top right is where you can create a new meeting. Whether that is a meeting you want to start in the next five minutes, or whether the meeting will take place next week, this button will take you to a page where you can create that session. 
Do not share meeting information/invitations on publicly accessible web pages.

More guidance on setting up your meeting.
How do I view upcoming meetings, previous meetings and cloud recordings?
In each of your Canvas modules, you will have a new link in the menu named Zoom.  Clicking this link will display the Zoom meeting management page. Staff will see a slightly different interface than students.
You will see some tabs across the central part of the page:

Upcoming Meetings - Meetings scheduled for the future - based on the time and date you have set for your meetings
Previous Meetings - As above but for meetings that have passed
Cloud Recordings - this is where you can control release of any of your recordings to students and where students would come to view any recordings. By default your recording will be unpublished. Published recordings will be visible to all students enrolled on the course. (NB if you would like to share more selectively, you can share a link to the recording with the intended users).
How can I start a Zoom meeting?
You can edit the details of meetings whenever you want, but when you are ready to start your meeting, you can easily find it in the list of upcoming meetings and click the Start button. This will start the process of opening the Zoom app, with you as the host.
Students receive a message saying This meeting for authorized attendees only?
You may receive one the following messages if you are not logged into your LJMU Zoom account when trying to join a meeting via Canvas:
If you receive one of these messages, choose Sign in to Join or Switch Account to Join and if you are prompted, sign in with SSO.
How are students notified about scheduled Zoom sessions?
Students may receive an Outlook email generated from Canvas if they have the
Canvas notifications
enabled for Canvas course calendar events. However, this personalised setting can be set to i
mmediate notification
, 
daily
, or 
weekly 
summary. It's reasonable to assume students receive a notification, but not necessarily immediately.
Students have the ability to turn off notifications for either a single course, or by type of notification under their account settings.
Students can use the Canvas calendar to determine which sessions they should be attending.
How can students join a Zoom meeting?
Under the Zoom page within your module, students will see a Join button in place of the Start button that you as a tutor can see. Likewise, you as a tutor will only see a Join button for meetings that other tutors have set up.
How do I know if students have joined the meeting?
As the host, the number of participants displays in the number icon on the Manage Participants button. You can also manage participants in a meeting.
How do I mute and unmute all participants?
As the host, you can manage participants, including muting or unmuting all participants. In the Zoom Help Center, learn more about audio controls.
Click the Manage Participants icon.
Click the Mute All or Unmute All button.
To mute all current and new participants, click the Continue button. To allow participants to unmute themselves, click the Allow participants to unmute themselves checkbox.
How do I share my screen?
Zoom allows for screen sharing on desktop, tablet, and mobile devices running Zoom.
How do I allow participants to share their screens?
When you are inside your Zoom meeting, click on the security button at the bottom of the screen and select Allow participants to: Share screen.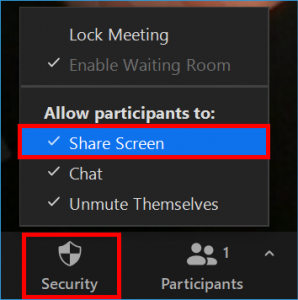 How do I use breakout rooms?
During the meeting you can split your students in up into 50 separate groups.  They can be randomly or manually assigned. You as the host (and co-hosts) can navigate between these rooms and interact with these smaller groups. Those in other groups can send a message to you requesting you join their room and you can also broadcast a message to all rooms.  
As the host, you have control over who goes into which room and how long the breakout room sessions last, by setting a time limit, or just manually closing the rooms. Bring all your students back to the main room when you're finished to share what you have discussed. 
All the many features are available within the breakout rooms; screen sharing, chat and whiteboards for example.   
Pre-assigning participants to breakout rooms
How can I use the Polling feature?
Using the inbuilt Polling feature is really simple and allows you to ask students multiple choice questions, to gauge understanding, as a quick quiz, or as an icebreaker. You can share the results directly within the meeting and save the results to explore further, after the session. 
How do I record Canvas Zoom meetings?
Click here for guidance.
How do I switch off chat in meetings?
When you start a meeting, click on the security button located at the bottom of the screen, then click on chat - this will remove the tick - chat is now switched off.  To switch chat back on click back on the chat button - this will add a tick - chat is now switched on.