Please note: Zoom Meetings may only be used for activity directly related to teaching and learning, via Canvas. Any user who requires access to an online meeting environment for activities outside of teaching should consider using Microsoft Teams. Further details on Microsoft Teams can be provided by IT services.
If you haven't already used your LJMU email address for an existing account, you will be ready to start using Zoom via Canvas.
If you have already used your LJMU email address with another Zoom account, you will receive an email invitation from Zoom (please check your junk mail if you have not received it). This will invite you to either join and consolidate your account into the institutional LJMU Zoom account, or switch the email address on your personal account to a non-LJMU email address. If you would like to keep your personal account separate to the LJMU account you will be provisioned with, please change the email on your existing, personal account.
Before you complete the below process please ensure that you are fully signed out of Zoom - desktop and app, as your account will not be changed over and you will not be able to access your LJMU licensed account.
The email from Zoom may look like one of the two following images. Click the hyperlink or paste it into a browser to accept the invitation.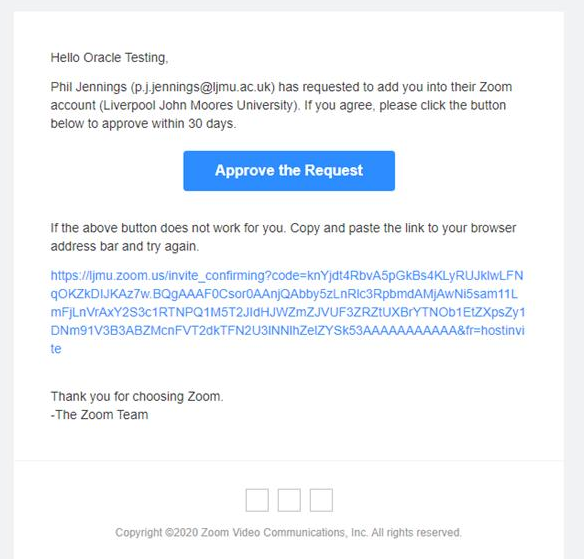 Please note, the email will state that Phil Jennings has requested you to join the account.
If you already have a Zoom account using your LJMU email, you will have the opportunity to change the email address associated with your existing account, as your LJMU email address can only be associated with the LJMU institutional account. Your existing meetings will transfer across into the new account.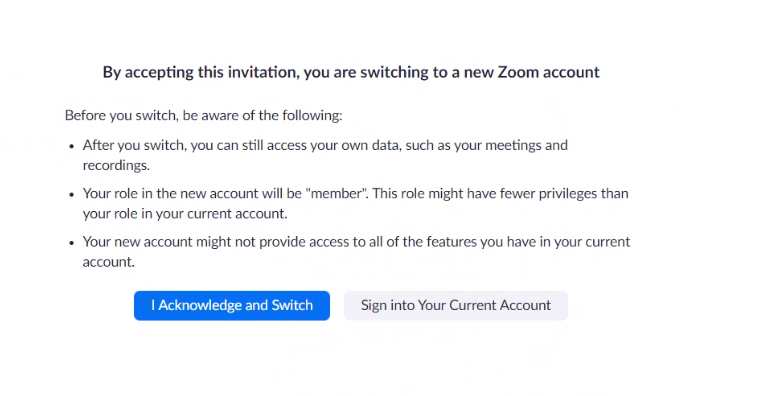 The text in the above image reads as follows:
By accepting this invitation, you are switching to a new Zoom account
Before you switch, be aware of the following:
After you switch, you can still access your own data, such as your meetings and recordings.
Your role in the new account will be "member". This role might have fewer privileges than your role in your current account.
Your new account might not provide access to all of the features you have in your current account.
Please note:
Although you will be given the role 'member', as a member of staff you will be licensed and therefore will be able to run teaching sessions longer than 40 minutes and with up to 300 participants.

Please note before you switch, the new account might have fewer privileges than your role in your current account.
You may also see the following options if you log into your pre-existing Zoom account.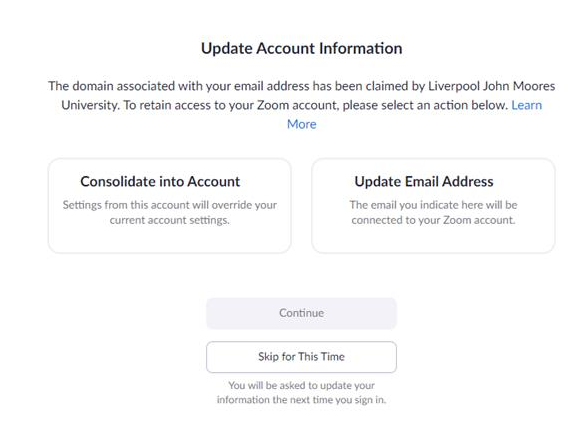 Please note before you switch, the new account might have fewer privileges than your role in your current account.
You will also be given the opportunity to receive a refund if your personal account was a paid account.
You will see a page like the one below where refund details can be arranged.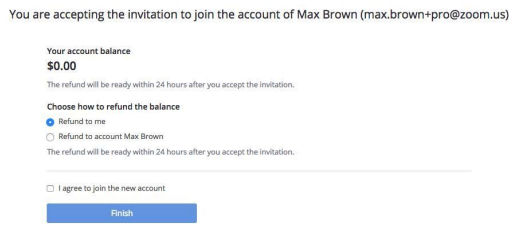 After the above steps are complete, you will be included as a member of the LJMU Zoom account and can schedule your live teaching events via Canvas.
Please see the following guide for information on accessing Zoom in Canvas.
I see an error message - "Sorry -- user not exist (1,001)"
If you have switched your email address in your personal account and see this error when attempting to access Zoom, please contact the LJMU helpdesk.