What is Zoom?
Zoom is an easy-to-use video conferencing tool that allows LJMU instructors to create a virtual classroom experience, record lectures and seminars, and is fully integrated with Canvas for a an accessible experience for both staff and students.
Instructors use their university Zoom account to schedule meetings from their Canvas course, and students enrolled in the course can join without needing to create an account. Meetings created via the institutional account will not be restricted to 40 minutes and up to 300 participants* can be included at a time.
Instructors will be able to see attendance reports and share meeting recordings with students.
Zoom offers a high quality video, audio, and wireless screen-sharing experience across multiple devices and operating systems and provides a seamless and simple to use integration within Canvas.
*if you need to run a teaching session with more than 300 users (up to 500), please request this via the helpdesk.
Zoom for Teaching & Learning
Zoom Meetings can be scheduled via Canvas to support delivery of online education only. It may only be used for activity directly related to teaching and learning.
Any user who requires access to an online meeting environment for activities outside of teaching should consider using Microsoft Teams.
I have already used my LJMU email address for a Zoom Account
If you already have a Zoom account using your LJMU email, you will have the opportunity to change the email address associated with your existing account as your LJMU email can only be associated with the LJMU institutional account. More information.
Accessing Zoom for the First Time in Canvas
If you are accessing Zoom for the first time within your Canvas Course, you will need to authorise the app. You'll see this window, click Authorise to confirm.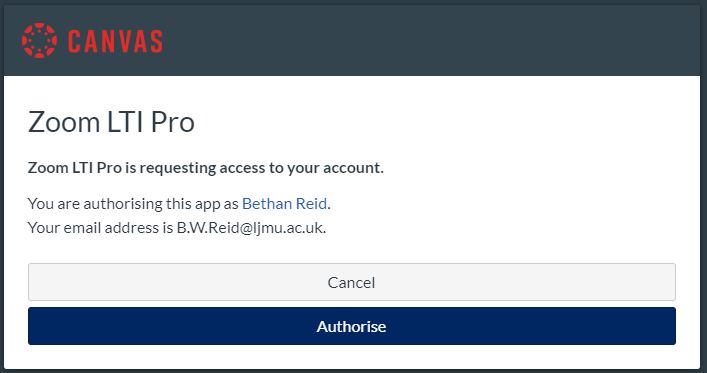 Help and Support
You can access the help and support available in the zoom help centre: support.zoom.us. You'll find lots of useful guides and once you've logged in. Open a support chat with one of their experts, by clicking on the button that looks like the following image:

Alternatively if you need to contact the LJMU TEL team please log this via the helpdesk.