As the host of a Zoom session, you have complete control over what functionality participants can use during a session, and you can also remove participants entirely from the session.
The ability to give or remove permission to use various features of Zoom can be accessed in two places: under the Security button and the Participants button.
The Security button
The Security button gives you easy access to a number of options to help you control your session from an interactivity point of view.
From here you can choose whether to allow all participants in your session to share their screens, use the chat, unmute themselves or turn on their video.
To remove permission for these features, click the option so that the tick mark is no longer showing.
Other useful options for giving you control over the meeting are the ability to remove participants and also suspend participant activities.
The Suspend Participant Activities button will turn off all participants' video, audio, and ability to share their screen. It will also lock the meeting to prevent participants from joining. This will apply to all participants.
The Participants window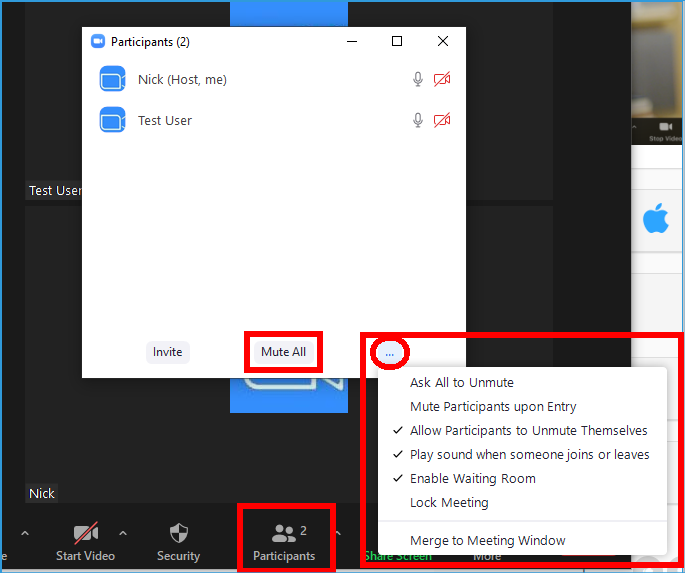 The Participants window allows you to Mute All, and has further muting options, including allowing/disallowing participants from unmuting themselves.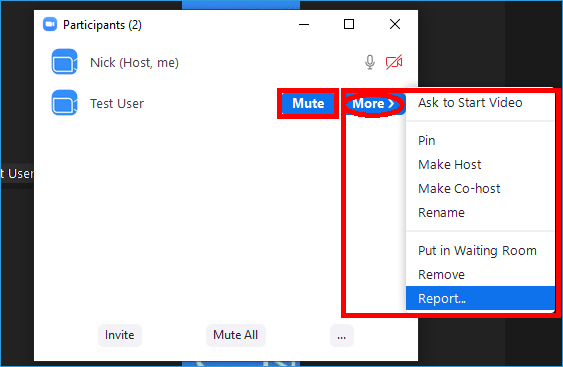 As in the preceding image, you can also mute and perform actions on individual users. These include placing users in the waiting room and removing them from the meeting entirely.
To make sure you have all of these options in your meetings, ensure you are using the latest version of Zoom.
Further information