The Zoom Dashboard is the next stage in the ongoing Canvas and Technology Enhanced Learning Analytics offering from the Teaching and Learning Academy It is intended to support teaching and learning by providing insights in to how students engage and interact with your teaching. Zoom has been an important tool in helping to deliver teaching in an online way and understanding how our students are engaging with the online delivery can help us to improve both their engagement and delivery of teaching. Using the dashboard it is possible to filter students by Faculty, School, Programme and Level of study in order to obtain a sense of their overall level of engagement and identify any recent drops inactivity. You can also select an individual student and examine in detail how their activity looks over time and even how much time has been spent in individual sesssions. Module tutors can filter by their details to view student session participation relative to their own online classes.
How to get started
Navigate to the following link to access the Zoom Dashboard
There are two tabs to the report
Filter and Headline Data. This is where we can filter our student selection by Faculty, School, Programme and Level of study and where we can view headline Zoom data for a student, such as total minutes spent in Zoom sessions, the date of their last Zoom particiaption and whether they have taken part in a zoom session in the previous 10 days or 30 days.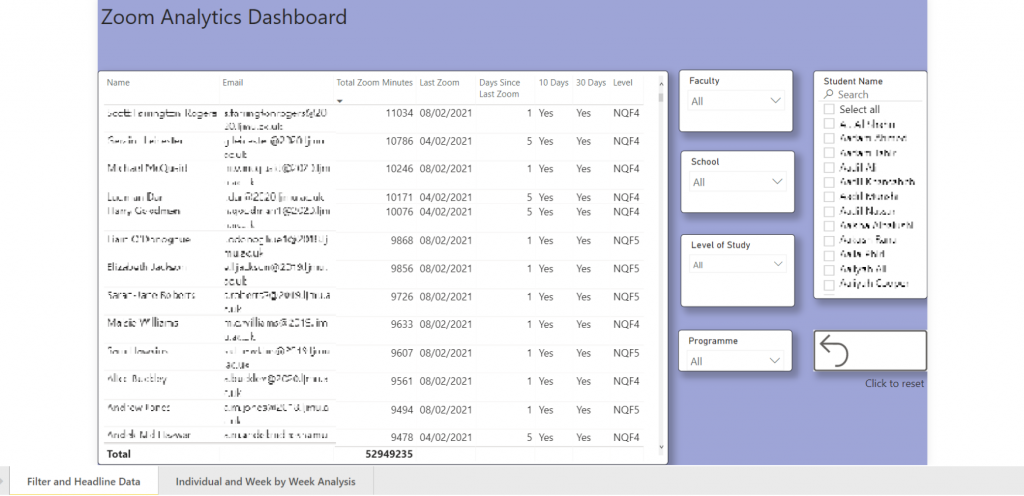 Individual and Week by Week Analysis, provides a more detailed breakdown for the selected student, We can look at their engagement trends on a week to week basis and identify specific sessions they have attended and the total minutes spent within each session
Filtering
To identify students or groups of students you can apply filters or search
Filters Can narrow down seraches by faculty, school, programme and level. For each filter select the appropriate group from the drop down menu (1)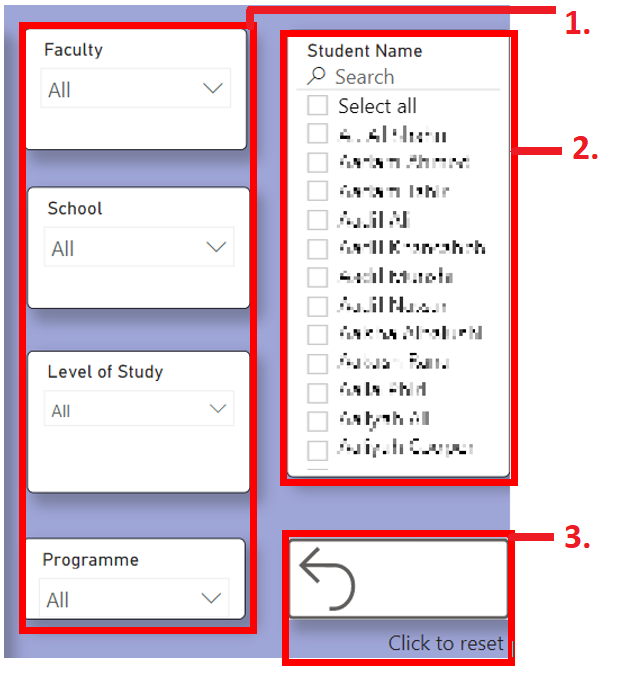 Additionally, it is possible to search directly for a particular student, by typing their name into the search field (2.)
At any time click the reset button to clear all filters and begin the process again (3)
Headline information
Once you have selected your indivdual or group, you can view some high level information regarding their Zoom use.

Total Zoom Minutes – The total sum of all time they have spent in Zoom
Last Zoom – The date of their most recent Zoom participation
Days since last zoom – How much time has passed since they last took part in a Zoom session.
10 Days/30 Days – If a student has taken part in a zoom session within these time frames this will say 'Yes' otherwise it will show no. This could help identify students who have recently stopped attending classes for some reason.
Level – The level of student study
It is possible to sort by these values by simply clicking on the headers so, for example you could order students on your programme showing from those who engaged with Zoom most recently to those who have engaged furthest back.
After filtersing and vieing the high level, headline information it is possible to view more detailed analysis by clicking the next tab "Individual and Week by Week Analysis"
This contains, in addition to the filters from the previous page, the following (See below)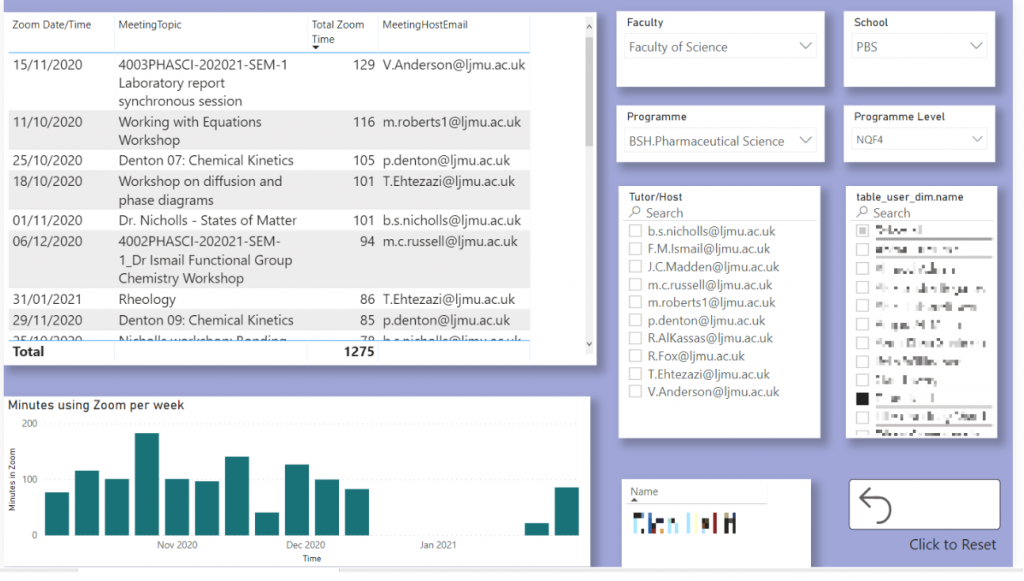 Particiaption by Session/Host/Date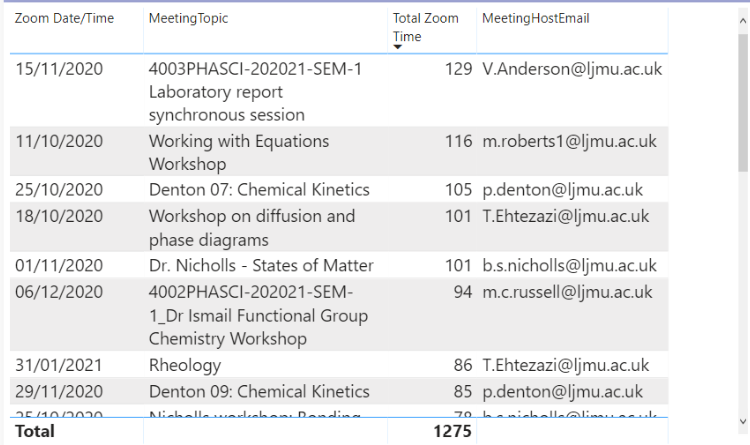 For a single student it is possible to see all session attendances (Meeting topic) and for how long they were present in each session in minutes (Total Zoom time) This will also identify the tutor/host for each session. Again these values can be sorted by clicking on the headers.
Minutes using Zoom per week

This graphic will illsutrate Zoom participation trends, showing the total minutes for a given student on a week by week basis. If you select multiple students (by using ctrl+click) it will provide a side-by-side comparison of attendance. Clicking on the graphics will filter the session table to data for the selected week.
Tutor/Host
If you wish to see all student Zoom participation for your sessions, after you have selected the student go to Tutor/Host and start typing your email address and select that whn it appears. This will filter the participation table for the individual student for all sessions that you have hosted.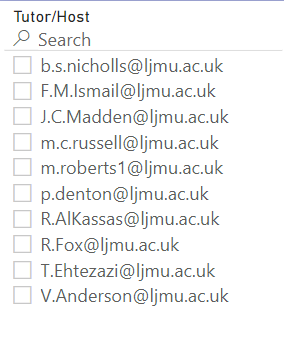 Again, when wishing to clear the filters, simply use the reset button at the bottom right.
We hope you find the Zoom Analytics useful, if you have any questions or comments please contact us.
Best Wishes
Teaching and Learning Academy